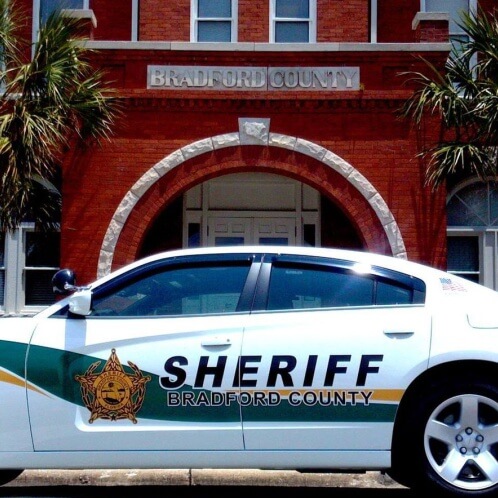 Dear residents of Bradford County,
For those of you who are new to Bradford County, I wish to personally welcome you to what I believe to be the very best locality in Florida. For those of you who aren't new to Bradford, you know well what a wonderful and special community we have here in Bradford, which we are proud to share. We cherish living in Bradford County, a county that consistently ranks as one of the safest, most well-run, business-friendly, and family-friendly counties in Florida.
This web site introduces you to our office and provides an overview of our services. I sincerely hope you find the information on this website to be helpful and useful as you explore the many services we provide to the public.
Bradford County is a small, rural county located about 45 miles Southwest of Jacksonville, FL and about 25 miles Northeast of Gainesville, FL. We currently serve a population of approximately 30,000. We take pride in our community and our goal is to serve the community with professionalism and integrity. Our sworn and non-sworn members are committed to providing responsive, quality, cost-effective service to the citizens of Bradford County.
​As your Sheriff, my top priority is ensuring the safety and security of every resident, business, and visitor to Bradford County. I have served the residents of Bradford County for over 35 years, beginning as a deputy, working my way up through the ranks of the Sheriff's Office, and then being elected as your Sheriff in November 2008. It is an honor and a pleasure to serve the community I love each and every day.
​Bradford County Sheriff's Office is the primary law enforcement agency in Bradford County, providing many public safety services for the citizens of the County such as Patrol, Jail, Investigations, School Protection Deputies, Emergency Management, County-wide Communications for all Public Safety Agencies, Animal Control, the security of Bradford's Courthouse Complex, service of thousands of court papers per year, and other law enforcement duties.
Bradford County Sheriff's Office employees, from our 911 dispatchers to our deputies, investigators to command staff, are here to provide the highest quality service to our residents, visitors, and businesses 24 hours a day, 365 days a year. Each and every one of the employees of Sheriff's Office are committed to serving Bradford County through living our mission, our vision, and our core values daily. The Bradford County Sheriff's Office is unwavering in our dedication to serving the public by always treating others as we would want our own families to be treated with the highest integrity and professionalism.
​​I would encourage you to follow Bradford County Sheriff's Office on Facebook, as we regularly provide important information and updates to the community, while also providing deeper insight into the services we provide as your county law enforcement agency.
​Together we can continue to keep Bradford County a safe community to live, work, play, worship, and raise a family.
Thank you for taking the time to visit our website and don't forget to visit often for the latest information.
Respectfully,


Mission:
To provide quality law enforcement services to the citizens of Bradford County, serving our community through crime prevention, drug enforcement, aggressive patrols, and education.
Under Florida law, e-mails are public records. If you do not want your e-mail released in response to a public records request, do not send electronic mail to the BCSO. Instead, contact this office by phone.